Tournaments Page
The Tournaments page lists all of the tournaments that have been added to your league.

Add New Tournament Page
When you run your Poker Tournament and want to keep track of the results and display for all your league Players to see on your Leaderboards, enter your Tournament results. Here is an example of the Venue tab of the Add New Tournament page:

The Date and Venue fields are required. The orange dot turns green when you add those, which means you will now be able to save the Tournament.
Follow these instructions to enter Tournament results:
To enter a Tournament, click on 'Tournaments' in the Admin Navigation
Click 'Add New' Tournament - you will land on the Venue tab. This page it is made up of 3 tabs:

Venue - enter general venue and tournament information
Leaderboard - enter Players in order of finish
Dealers - enter Dealers and the hours they dealt

A Note on Required Fields

If a field has a * next to it, it's required
An Orange dot on a tab means there are required fields that have not been satisfied and you can't Save the Tournament.
A Green dot on a tab means all required fields are satisfied and you can Save the Tournament.

Select the 'Date' from the Calendar
Select the 'Venue' from the drop down menu
Select the 'Season' - auto-populated when a Venue is selected
Select the 'Type' - auto-populated when a Venue is selected, Standard as default
Enter a 'Name' for your Tournament (optional)
Enter the '# of Tables' (optional)
Enter the '# of Tokens' (optional)
Enter 'Venue Payment' info (optional)
Click the Leaderboard tab
Enter 'Total # Players'
Select 'Scoring System' from drop down menu
Enter each 'Players' name in the correct Place Position
Enter 'Points' for each Place Position (if you don't have a Scoring System setup)
Enter Recap
Click the Dealer tab and enter 'Dealer' information - duration format is 1h 30m
Copy Recap Story
Click 'Save'
Recap Story Feature
The Recap Story was added for an easy way to copy your important Tournament information to share on social media and your websites. The Recap Story is autofilled with the following:
Venue Name
Tournament Date
Thanks to Dealers: Dealer List
Recap (autofilled as you type in the 'Recap details' within the 'Recap' field)
Top Finishers (autofills up to 10 players from the Tournament Leaderboard)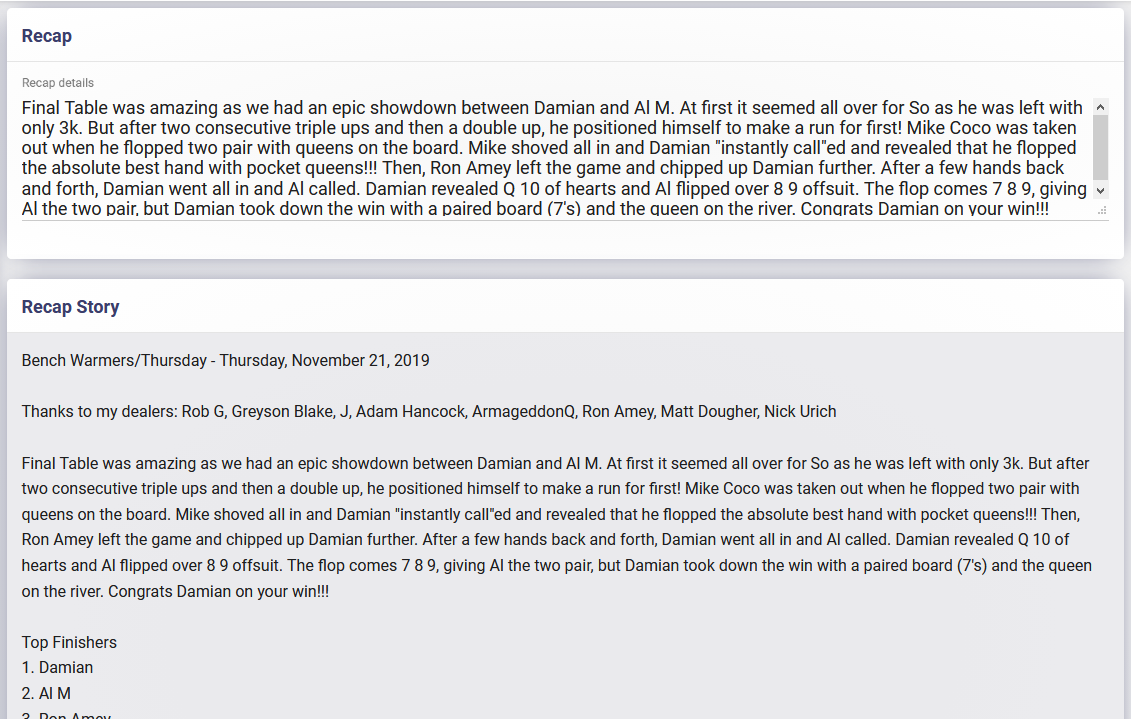 'Save & Copy' the Recap Story then paste it to Facebook. Then you can add a picture, add a video, move or remove text, etc.
Tournament Access
Tournament Directors and Account Managers are assigned to Venues. They can enter tournaments for the Venues they are assigned to.
Tournament Directors can edit any Tournament they enter, but not other Tournaments.
Account Managers can edit any Tournament they are listed on.
Anyone with higher user access level, like the League Administrator, can edit all Tournaments.
To Edit a previous Tournament go to the Tournaments page then use the filters on the page to find the event you are looking for and click it.
Video : Enter Tournament Results Into Poker Leaderboards
Watch as I enter Tournament Results into Poker Leaderboards
Video: View The Poker Leaderboards Results
After inputting all the information, watch as I view the updated results.
League Leaderboards
Winners Leaderboards
Player Profile Pages
League Stats
Lifetime Stats
Venue Stats
Mobile App