Poker Basics
Poker is a skill based strategy game, mixed with elements of chance. No-Limit Texas Holdem is the most popular of poker game variations. Because NLH poker is a game of skill, winning strategies can win over the long term. However, over the short term, the element of chance means that even if you make the right play using well thought out reasoning and strategy, you can still lose! This element of chance is what makes poker appeal to a much broader range of players. When you really learn poker you realize there is much more to winning than what it appears to a beginner.
Poker Rules
Robert's Rules of Poker v.11 | download a copy v.11 | PokerCoach.us
Keep Your Large Chips In View - When you're stacking your chips, the large denomination chips must be able to be seen by all players.
Keep Your Cards In Front of Your Chips - Put your cards in front of your chips and cover them after you've looked at your hand and / or made your action. This way everyone knows you are in the hand, including the dealer so they don't pass you by when it's your time to bet.
World Series of Poker Official Tournament Rules
Atlanta Poker Club Official Rules
Tournament Directors Association Rules | PokerTDA.com
Standard 52-Card Playing Deck
As you can see from the playing card deck image below, there are different terms for different areas of the deck you will need to concern yourself with while using this course.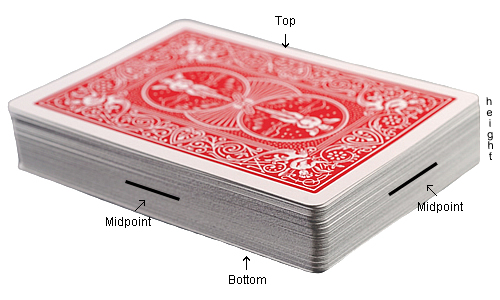 There are...
52 Cards In A Legal Deck
4 Suits In A Deck (Suits Have No Value)

Spades | Hearts | Clubs | Diamonds

13 Card Values For Each Suit In A Deck

2 | 3 | 4 | 5 | 6 | 7 | 8 | 9 | 10 | Jack | Queen | King | Ace
52 Cards Face Up
13 Spades 2 through Ace
13 Hearts 2 through Ace
13 Clubs 2 through Ace
13 Diamonds 2 through Ace
Why Were Poker Playing Cards Created?
The deck of cards represents God's story as a Bible, Almanac and a prayer book as explained by Tex Ritter in his song 'The Deck of Cards'.
Tex Ritter - The Deck of Cards
The deck of cards is also an agricultural calendar that tells us about the weeks and the seasons.
52 cards for 52 weeks in the year
2 colors for day and night
4 suits for the 4 seasons - 13 weeks per season
12 picture cards representing the 12 months
Add the face value of each card (1 + 1 + 1 + 1 + 2 + 2 + 2 + 2+....+13) = 364
With each new season, it was King's week, then Queen's week, Jack's and so on until Aces week which signals a changing season and a new color
Jokers used for leap years
Table Etiquette
When you're at the poker table there is certain etiquette you should follow if you want to be invited back or if you don't want to tick off your fellow table mates. There's only a few, but they go a long way.
<< PLEASE DO NOT >>
DO NOT Splash The Pot - Set your bets out in front of you.
DO NOT Talk During A Hand - Oh, I folded a flush there.
DO NOT Show Your Hand To Other Players or Audience - Show one show all if you decide to.
DO NOT Berate The Dealer or Fellow Players - Be nice!
<< PLEASE DO >>
DO Take A Shower - You're going to be sitting right next to people for perhaps hours, so be a good table mate and shower up. A little mouthwash wouldn't hurt either. 🙂
DO Tip The Dealer - If you're in a cash game and win a big hand or if you make a big cash in a tournament, it's standard to tip the dealer. The amount is up to you.